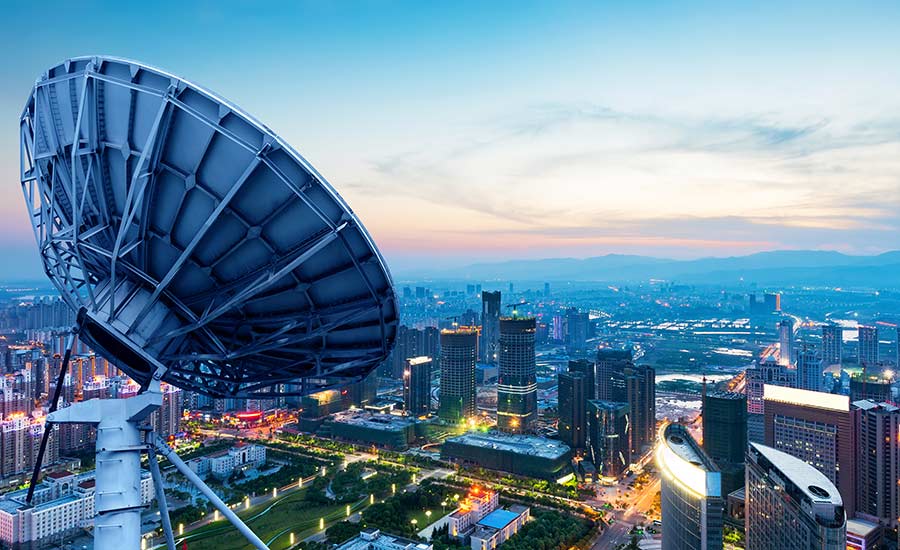 New to headend equipment?
You might be surprised to find out that it is responsible for many of the services you use each day, from cable TV to cellphones, video on demand and more.
In this article, we'll explain everything you need to know about headend equipment. We'll compare analog and digital headend, share how to maintain your headend equipment and detail our headend repair process at Commercial Electronics.
What Is Headend Equipment?
Headend refers to any facility or equipment used to receive, process and transmit communication signals.
Examples include satellite dishes and receivers, antennae, microwave receivers, transmitters, converters, modulators and more.
Analog Headend vs. Digital Headend
The signals transferred from the headend can be analog or digital, modulated by quadrature amplitude modulation.
An analog signal represents a continuous wave, changing over a period of time. It has no fixed range and is represented by sine waves.
A digital signal is a discrete wave that carries information in binary form. It has a finite-number-range (0 and 1) and is represented by square waves.
The quadrature amplitude modulation is a method to modulate and combine two carriers shifted in phase by 90 degrees.
Let's compare the analog and digital headend.
The analog headend system uses a NTSC carrier channel and supports a maximum of 106 channels.
Compared to a digital signal, it has a higher density, uses less bandwidth and is easier to process.
Here's how an analog system works:
The satellite sends the signal to the satellite dish
The decoders transform it into a composite video signal
The modulators produce an RF signal for a particular frequency
A combiner combines all modulator data into one
The splitter splits the signal for different transmitters
The digital headend system is a technological innovation that provides additional services such as Video On Demand (VOD), Switched Digital Video (SDV), radio service, internet, digital phone and more.
Unlike analog headend systems, digital systems need less space for installment and operation, provide internet access and technical support.
Here's how a digital system works:
The signal travels from the satellite to the satellite dish
Splitters are used to play multiple channels from one satellite cable
Integrated Receiver Decoders (IRD) are tuned to receive multiple channels with a specific frequency from a specific satellite
Decoders decode the channels
Encoders encode the channels (they can encode 4 or 8 channels at a time)
A PSI SI server generates PSI SI tables
The output from the encoders, IRDs and the PSI SI server reach the video switch
The Quadrature Amplitude Modulator tunes the streams per frequency and modulates the signal
The Management Switch serves as a medium to provide access to devices
The Conditional Access Server (CAS) receives the information and sends it to the QAM
The Subscriber Management Server (SMS) activates, deactivates or blacklists the Set Top Boxes (STB)
A splitter combines the frequencies of the QAM
The Set Top Boxes (STB) provide HDMI or audio-video signal
Digital headend systems are widely used in hotels, hospitals, shopping malls and other large operations as a distribution point of various programs, from educational to entertainment and more.
Advantages of a digital headend system include:
Full HD quality which ensures picture clarity and multi-channel sound
High channel capacity
The ability to sort channels
An Electronic Program Guide (EPG)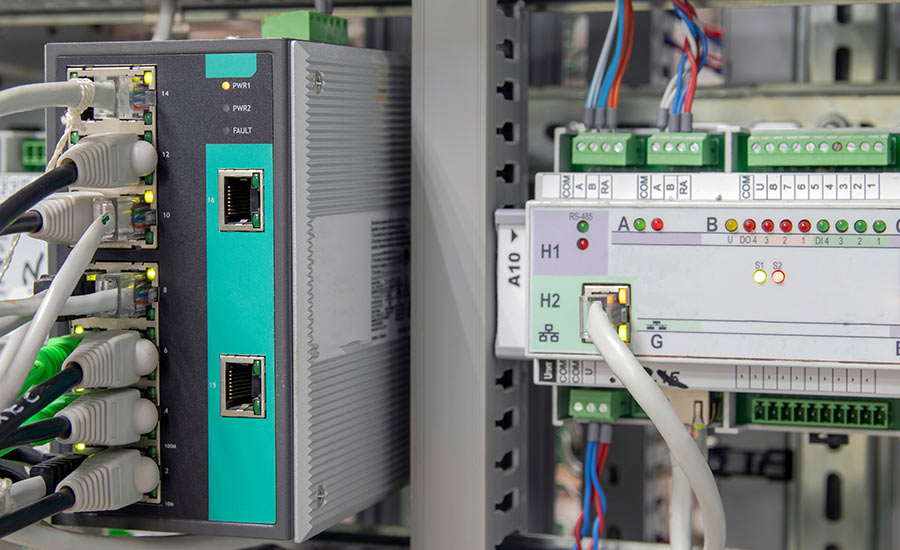 How To Maintain Headend Equipment
Regardless of which type of headend equipment you choose, your equipment should undergo routine preventative maintenance to identify and correct issues promptly and help you avoid service interruptions.
Your preventative maintenance plan should include the following:
Monitor Your Headend Alarms
Digital headend equipment has an alarm system that alerts you when it comes across a problem, such as a loose or unplugged cable, lost input signal or incorrect tuning parameters.
Make sure you regularly monitor these alarms and take immediate action when a problem is found.
Use Antivirus Software
Use antivirus software to help protect your equipment from malicious interference that can impact your signal reception and transmission. Find a reputable provider and regularly run scans and download updates for optimal protection.
Backup Your Devices
Regular backups ensure that if there are issues with your equipment, you can reset your device and activate the needed configuration without losing data. Schedule routine backups to prevent data loss.
Maintain Recommended Temperatures
An excess of devices can lead to high temperatures, which in turn can affect your digital headend equipment.
To ensure efficient functioning, limit the number of devices and maintain recommended temperatures.
In digital headend control rooms, the temperature should be between 14 and 16 degrees Celsius. Install a headend temperature and humidity meter to monitor the room and prevent overheating.
Maintain Your RF Cables
Summer heat can affect the performance of your external cables and cause poor video transmission or a lost signal. Check your cables regularly, keep them dust-free and if possible, keep them out of direct sunlight.
Tune Your Dishes
When installed, your dishes are fine-tuned to receive and transmit high-quality signals. Settings can misadjust over time, which leads to weakened signal strength and quality. Re-tune your dishes regularly using a satellite meter to prevent service interruptions.
Monitor And Renew Your Equipment Licenses
Avoid failures and interruptions in your communication reception and transmission by renewing your equipment licenses as needed. Renewing a few days or weeks in advance can help reduce your risk of missing the deadline.
Ask Experts To Inspect Your Equipment
Even if you think you know your way around headend equipment, missing something small can lead to problems in the future. Hire professionals to conduct your equipment audits to ensure everything is thoroughly inspected and issues are resolved.
Keep A Maintenance Record
Maintain a detailed history of inspection and repair for each piece of equipment. When needed, you can refer to your organized record to check past work.
Work With A Trusted Repair Company
Use a reputable repair company to monitor and maintain your headend equipment. Professionals will ensure nothing is missed and issues are resolved correctly.
Headend Equipment Repair At Commercial Electronics
From fallen trees that can cut your aerial cables to burnt circuit boards or flooded equipment, your communication-signal lines can become damaged without the proper maintenance and repair.
At Commercial Electronics, Inc. we offer affordable, high-quality repair services for your headend equipment.
Our expert team follows a detailed repair process to ensure issues are diagnosed and immediately addressed.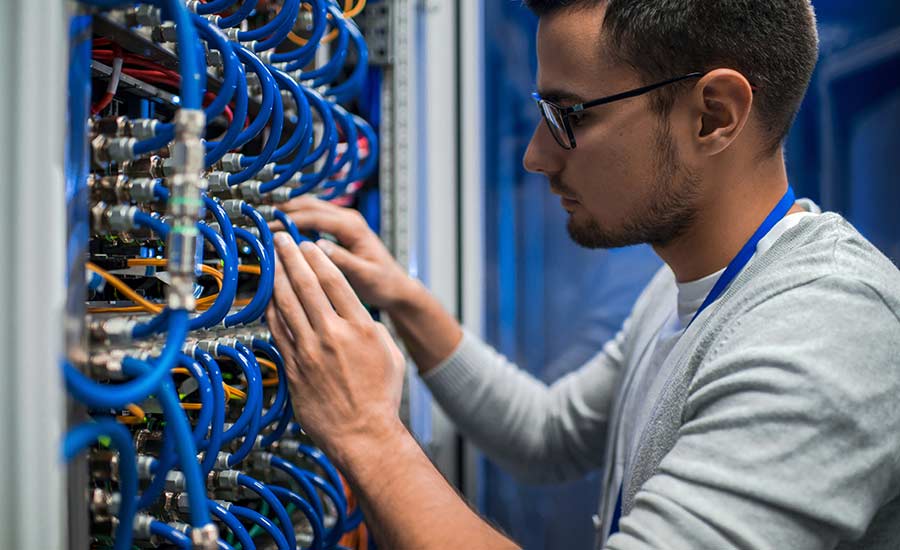 Here's how our experts approach the inspection and repair process:
1. We Inspect Your Equipment For Physical Damage
We perform a thorough check of your headend equipment to determine if there is any physical damage such as cuts, ruptures, faulty or burnt circuit boards and more.
We determine cost and timeline for all repairs.
2. We Remove Corrosion And Clean Your Equipment
Exposure to humidity, dirt and corrosive gases like hydrogen or sulfur oxides, ammonia and more can lead to corrosion on your equipment, which can damage the wires and circuits of your headend equipment.
Our team removes any and all corrosion and thoroughly cleans your equipment.
3. We Upgrade And Modify Your Equipment
Our team carefully executes the upgrades and modifications needed.
4. We Repair And Test Your Equipment
We repair and test your headend equipment to ensure it meets the manufacturer's specifications for safe and efficient operation.
5. We Conduct QC Tests And Record Your Repair Data In CEREUS
Our team performs final Quality Control (QC) tests and the repair data is recorded in CEREUS — our reporting software solution.
Both QC and testing data are available to you at all times at no additional cost, and the data is never released to third parties.
This accessible information about your equipment repair history allows you to track your equipment's performance, download quality reports, plan regular inspections and repairs and optimize costs.
To track, map and tag your equipment, you can use another tool from our toolbox — NESS.
At Commercial Electronics, we value your time. That's why we pick up and drop off your equipment, keep an electronic record of the process and share the information with you.
Takeaways On Headend Equipment
Headend equipment is responsible for the reception and transmission of communication signals.
Recommended preventative maintenance includes:
Regular monitoring and inspections
Detailed repair reports
Correct temperatures in server rooms
Renewal of licenses and antivirus programs
At Commercial Electronics Inc., we provide comprehensive repair and refurbishment services for headend network equipment.
Along with our 30 years of professional expertise, we offer complimentary pick-up and drop-off services to most locations across the country, and a detailed electronic record of the services provided, available to you at all times.