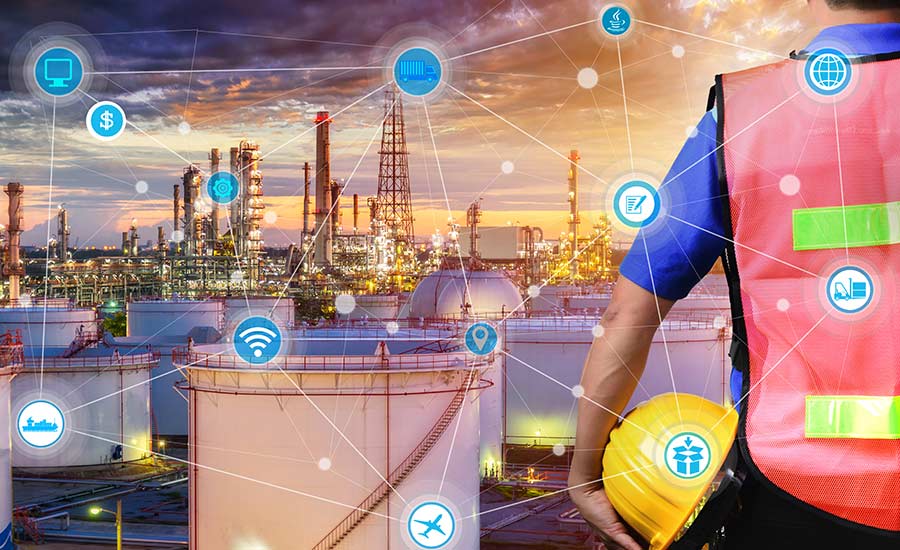 Industrial Internet of Things is an element of the fourth industrial revolution known as the Industry 4.0. It has taken remote control, automation and data management to the next level, using corelated cyber-physical systems.
What does this actually mean?
In this article, we will define the Industrial Internet of Things and explain how it can apply to your business.
Plus, we'll detail how you can benefit from remote equipment monitoring and, specifically, how you can use our inventory management apps to keep track of your equipment throughout its life cycle.
Industrial Internet of Things (IIoT) Defined
To make it easier to understand the concept of Industrial Internet of Things, let's start by explaining what Internet of Things is.
Internet of Things (IoT) refers to the physical objects or devices embedded with sensors, software solutions and other technologies, with an aim of exchanging data with other devices and systems via internet connection.
In other words, it means the use of online applications to turn physical objects, machines and other "things" into connected devices.
For example, you may use IoT for smart home appliances which you can switch on and off remotely, even when you're miles away from home, using a mobile app on your phone.
Industrial Internet of Things (IIoT or Industrial IoT) refers to the concept of IoT applied to the industrial domain, connecting industrial equipment, systems and infrastructures with specifically designed software solutions.
In simpler terms, it means using innovative technology to enhance interoperability and help businesses monitor, maintain and control equipment remotely.
For example, inventory managers can use IIoT to monitor real-time performance of their equipment by using specific applications.
What Are the Most Common Use Cases of IIoT?
The shift of the IoT paradigm to the industrial marketplace has certainly changed how organizations interact with devices, equipment, heavy machinery and other elements of their inventory.
As part of the Industry 4.0, the Industrial IoT has paved the way for the usage of robotics, machine learning, big data, state-of-the-art software and other smart solutions within a business environment across many different industries.
This means that, for example, you can implement IIoT to:
Monitor warehouse inventory and optimize equipment repair cycles
Manage and maintain electronical equipment for your organization
Manage a complex system of hospital equipment and medical devices
Run automated processes within a company, plant or a factory
Oversee the implementation of agriculture systems and processes
These are only some of the possible use cases. The exact application of Industrial IoT solutions for your business will depend on your operational structure, needs and goals.
Before implementing IIoT to your systems, ensure that your infrastructure is suitable for the latest technologies.
For example, if your business uses legacy systems that haven't been upgraded for a decade, consider power supply repair or transitioning to GPON technology before applying the IIoT solutions. This will help ensure a higher level of security and more efficient equipment management.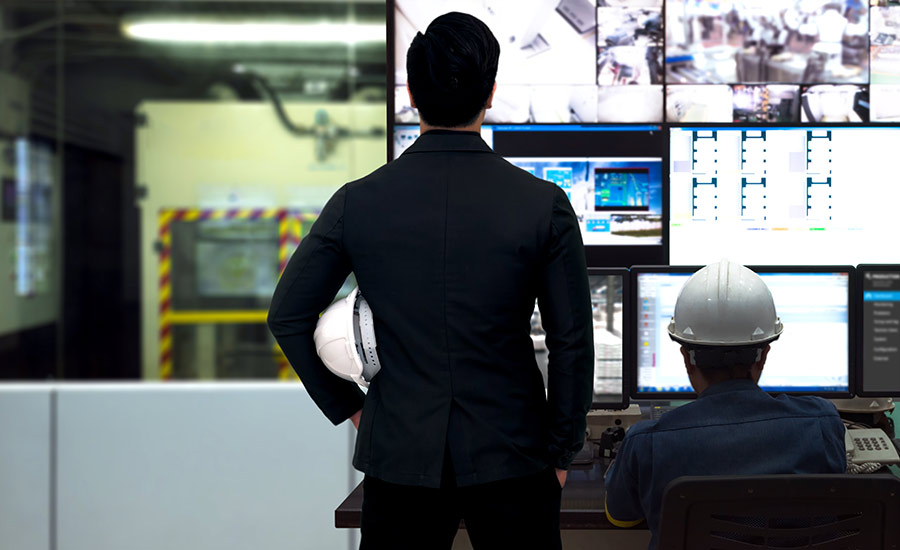 Why Is Remote Equipment Monitoring Important for Your Business?
One of the main purposes of the IIoT implementation in business operations is to enable efficient remote equipment monitoring.
Why is this so important for your company?
Because it can have a positive impact on your overall equipment performance, efficiency and durability throughout its life cycle. Knowing the status of your inventory assets at any given point can help you make better strategic decisions.
It can also enable you to immediately act upon any kind of equipment or system failure. This will help you avoid minor errors that can transform into major disasters.
In addition to continuous equipment monitoring, the benefits of Industrial IoT can include:
Creating connected infrastructures
Supporting innovative systems
Ensuring flexibility and efficiency
Providing secure tracking solutions
Reporting with more details and insights
How does IIoT enable you to do all that?
By using inventory management apps and other cloud-based equipment maintenance software that can give you the opportunity to stay connected to your equipment from anywhere, at any time.
Inventory management apps can be a good solution for your company if you want to:
Consistently track equipment's key performance indicators
Ensure quality standards compliance and timely inspections
Detect problematic issues as they occur and act accordingly
Make cost-effective decisions about equipment repairs
The bottom line: A proactive approach to monitoring, maintaining and repairing your equipment can save you time, money and other resources. Plus, it can help you run your business efficiently and manage repairs effectively even when equipment fails.
How Inventory Management Apps Can Help You Stay Connected to Your Equipment Throughout Its Life Cycle
Whether you manage a small retail business, a large healthcare organization or an international supply chain for a factory, you can benefit from the Industrial IoT solutions and inventory management apps.
These apps can help you organize control systems at the intersection of information technology (IT) and operational technology (OT). This means that you can rely on the smart software solutions to help you with automation, optimization and logistics.
If you're struggling to find the right fit for your business needs, look for these elements in inventory management apps:
Availability: Make sure that you can use the app on all devices, at all times
Scalability: Ensure it's a robust solution that you can scale up if needed
Flexibility: Find apps with flexible options that you can adjust to your needs
Security: Make system, network and data security your top priority
At Commercial Electronics, Inc. (CEI), we pay special attention to providing highly effective software solutions to our customers.
That's why we've developed two inventory management apps – CEREUS and NESS – that can help you enhance equipment visibility and operability through the use of smart sensors, remote access and remote control.
CEREUS: A Custom Reporting Solution for Inventory Management
With CEREUS, our advanced inventory management and reporting software, you can enhance equipment tracking capabilities and gain valuable insights for further operational improvement.
This app is the right solution for you if you want to:
Keep track of every inventory asset from repair pickup to delivery
Ensure that repairs, adjustments and replacements are effective
Get quality control results and test images available for download
Gain insights from custom reports on cost analysis, repair history and more
CEREUS is a web-based application that can be accessed by most browsers. Its main purpose is to enable users to fulfill inventory management needs through expanded reliability, enhanced efficiency and reduced costs.
Note: CEREUS is free for all of our customers. If you haven't had the chance to try it out yet, sign up now and start managing your inventory repairs more efficiently.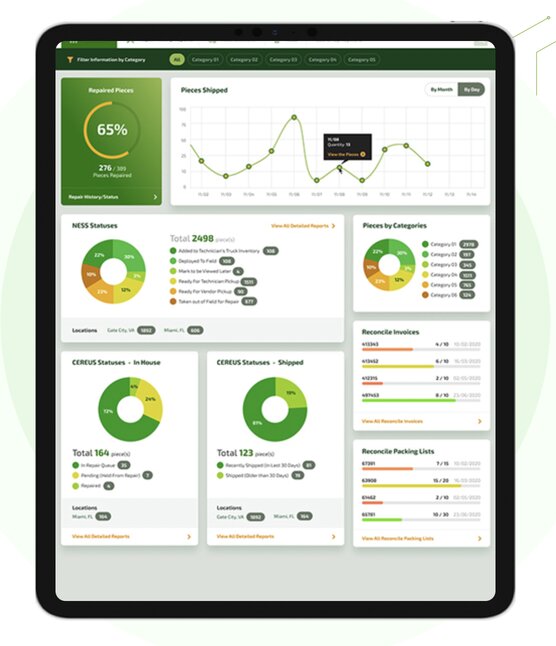 NESS: An Inventory Tracking App To Monitor Your Equipment
With NESS, our newly developed inventory management and analysis tool, you can track, map and tag your equipment and other inventory assets at any life cycle stage.
This app is the right solution for you if you want to:
Know exactly how your equipment is performing at any given point
Manage inventory assets more strategically with remote access and control
Avoid repeated equipment failures and make better-informed decisions
Start using a virtual repair tagging system and eliminate physical repair tags
NESS is a mobile app that works on most Android, iOS and Windows 10 devices.
It has a built-in scanning mechanism that uses a camera to scan equipment serial numbers and identification codes, but it also allows you to enter the codes manually as well.
The app uses a GPS tracker for equipment deployment so you can always see where your equipment is and where it could go.
NESS is a simple solution that can help you:
Prevent equipment loss
Avoid hidden costs
Prevent overspending
Get detailed insights on inventory
Track and monitor the status of your repair
Follow your equipment through its entire life cycle
Note: NESS is also free for all of our customers. Sign up now to add another layer to your remote equipment monitoring and tracking solutions.

How Industrial Internet of Things Helps with Remote Equipment Monitoring: Key Takeaways
Now, let's zoom out and summarize everything we talked about.
Industrial Internet of Things is part of the Industry 4.0, the current trend of automation, remote monitoring and data management in manufacturing technologies.
It enables companies to easily, securely and efficiently share data among inventory managers, manufacturers, suppliers and other parties in the supply chain.
The IIoT also provides businesses of all shapes and sizes with smart solutions for remote equipment monitoring, managing and maintaining.
With the help of inventory management apps, such as CEREUS and NESS that are developed by the team of CEI's engineers, you can use innovative software and real-time analytics to improve the operability, productivity and sustainability of your systems